Bell's Palsy: What's Acupuncture got to do with it?
Bell's palsy, you never think it will be you right? Bell's palsy is an acute peripheral facial nerve palsy of unknown cause and accounts for 50% of all cases of facial nerve palsy. Luckily, acupuncture can effectively restore nerve function. People with Bell's Palsy experience difficulty with smiling, eating, speaking effectively, crying, and closing their eyes. Acupuncture is well known as a modern, successful intervention. Acupuncture is excellent at stimulating the nervous system, and individual nerves such as the facial nerves. Accessing acupuncture as early and as frequently as possible is key and can significantly quicken your path to recovery.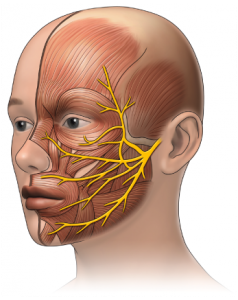 THE SCIENCE BEHIND ACUPUNCTURE AND BELL'S PALSY
If you are into the science of acupuncture, how this works and measurable outcomes check out the research below:
JOURNAL OF ACUPUNCTURE AND MERIDIAN STUDIES:
The Efficacy of Acupuncture in the Treatment of Bell's Palsy Sequelae (Oksuz et al, 2019)
"In this study, we found that acupuncture treatment is effective in improving Bell's palsy sequelae. Acupuncture can be used as a safe method in the treatment of Bell's palsy sequelae."
HEALTH CMi:
Acupuncture Found Effective For Bell's Palsy
"Acupuncture reverses facial paralysis due to Bell's Palsy. Researchers from the General Hospital of the People's Liberation Army (Beijing) compared two types of acupuncture to treat infranuclear facial paralysis affecting the facial nerve (cranial nerve VII). One treatment protocol achieved a 98% total effective rate and the other acupuncture protocol achieved a 90.7% total effective rate. [1] Based on the data, acupuncture is recommended for the treatment of facial paralysis due to Bell's Palsy. "
NEURO REPORT:
Acupuncture-induced changes in functional connectivity of the primary somatosensory cortex varied with pathological stages of Bell's palsy (He et al, 2014)
"Studies suggest that acupuncture induces functional connectivity changes in SI (primary somatosensory area) in patients with Bell's palsy and that the changes vary with the pathological stage of the disease. These different changes induced by acupuncture probably depend on the brain's functional connectivity status, which is affected by connectivity disruption in the acute stage and cortical reorganization during recovery. It is also inferred that acupuncture helps regulate homeostasis by modulating connectivity of associated regions in Bell's palsy"
WHAT MAKES TRIADA HEALTH A GREAT OPTION?
With a background in neurosurgery our acupuncturist, Stefany Manthey RAc, brings a unique blend of western neurological and Chinese medical knowledge for a comprehensive approach to all issues concerning the nervous system! Book with her today to get started in your recovery.
WHAT TO EXPECT FROM TREATMENT?
Treatment success is best when done as early as possible.
Session frequency:
Recommended at a frequency of twice a week for four weeks may include:
Techniques utilized may include:
Systemic (whole-body) acupuncture
Facial acupuncture
Electrical stimulation
Scalp acupuncture
Questions? Email our acupuncturists at admin@triadahealthottawa.com or book online here