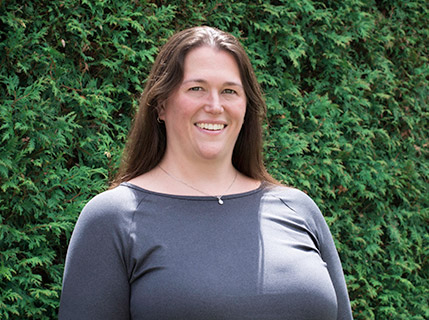 Alyssa Gregory
REGISTERED MASSAGE THERAPIST
Alyssa studied Massage Therapy at Lambton College in Sarnia from 2001 to 2004. She worked in London and area for 7 years before making the move to the Ottawa area. She has mainly worked alongside Chiropractors, as well as Acupuncturists, MD's and Physiotherapists, to ensure the best outcome for her clients. Alyssa also works at Algonquin College as a clinical instructor, helping students reach their goals as future RMT's.
Alyssa's practice ranges from deep tissue to lighter therapeutic work, as well as relaxation-focused treatments and pregnancy massage. She is trained in Myofascial Release, Craniosacral therapy, TMJ treatments and has started working with concussion treatments.
She has experience working a wide variety of issues, including but not limited to, headaches, repetitive strain, physical trauma, pre/post surgical care, frozen shoulder and impingement syndrome. Alyssa also uses posture and feedback as a guide to monitor your progress and as a practical tool in deciding how to approach your ongoing care.
Alyssa Gregory is a registered member in good standing of the College of Massage Therapists of Ontario and the Registered Massage Therapists Association of Ontario.
Hours
Mon & Wed:   2pm-8pm
Thu & Fri:        9am-1pm
Saturdays:      9am-1pm (twice a month)